East German Balaclava
An East German balaclava[1]
Type:
Balaclava
Designation:
Unknown
Place of origin:
GDR
Produced:
At least 1990[2]
Manufacturer(s):
Unknown
Material(s):
wool
Evolved from:
Unknown
Evolved into:
Unknown

Service

Used by:
National People's Army
Wars:
Unknown
The
East German Balaclava
is a woolen balaclava of German origin.
[3]
[4]
[5]
[6]
[7]
The NVA balaclava is made of wool and in cable knit style. It has one large oval eye opening which also allows the exposure of the nose for easier breathing. It is 20" long and usually in olive drab color.
The NVA balaclava was used by the East German National People's Army. However, its design was fairly outdated by the time of the Cold War.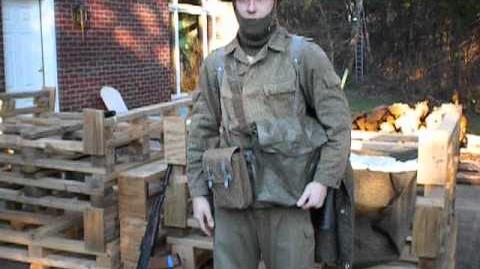 References
Edit
Ad blocker interference detected!
Wikia is a free-to-use site that makes money from advertising. We have a modified experience for viewers using ad blockers

Wikia is not accessible if you've made further modifications. Remove the custom ad blocker rule(s) and the page will load as expected.