The
M88
is a battledress of Soviet origin.
[6]
[7]
M88 is the last of dress regulations for the armed forces of the Soviet Union. It was meant to replace all battle dress uniforms of the Soviet army by 1988. Because of the Soviet-Afghan War, the Soviet Union adopted the new dress regulations very quickly beginning in 1985.
The new cut of uniforms was very modern for the time. Compared to the previous dress regulations of 1969 (M69) the uniforms were much more loose fitting and had a more specified purpose than the previous M69 was (eg. Pants were not breeches anymore as the purpose of breeches was outdated at the time they were introduced).[8]
M88 pattern uniforms were produced until the early 1990s with the last ones being the VSR camouflaged M88 uniforms made in 1993.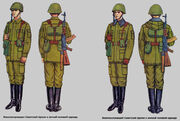 Afghanka (summer/winter suit)
Edit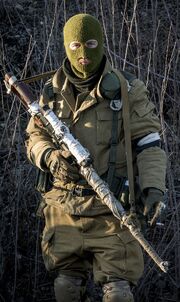 The solid-colored M88 uniforms received the nickname "Afghanka" due to their intensive use during the Soviet-Afghan War. Some sources state that the uniform was approved by the Minister of Defense of the USSR with order № 0145 in 1984,[17] although, it is speculated when exactly began its production, according to some production could have began even earlier in 1983 so to be fully adopted as main uniform by 1988 per the 5 year plans of the Soviet economy, nevertheless, according to photographic evidence the khaki afghanka was introduced to service in 1985 and was mass produced and used as the main uniform of the Soviet forces from this point on,[18] as such these uniforms are widespread today as surplus militaria.
The glass fabric variant is made of polycotton and retains is colour longer, feels softer and is tougher than regular cotton. Also, the glass fabric Afghankas generally are made in more grey shade color. Polycotton does not soak up as much water as cotton and dries quicker too.[4] The olive and green afghankas were introduced at some point later, they were intended for usage in different theaters. The most rare type of Afghankas are the black, grey and blue colored ones, they were manufactured in 1991.
Spetsodezhda (2nd pattern)
Edit
The contemporary Spetsodezhda uniforms were made in the new and updated M88 cut rather than the old design.
Camouflaged (summer/winter suit)
Edit
The camouflaged M88 uniforms were likely introduced as later variants as most of them were manufactured in 1991. The pink ttsko camouflaged uniforms were used by the VDV. Due to their short production span, these uniforms are very rare today.
In popular culture
Edit
References
Edit