Analysis
REFERENCE 1
,
REFERENCE 2
,
REFERENCE 3
,
REFERENCE 4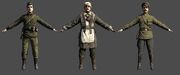 Headgear
Pilotka cap
M40 Ushanka with Soviet WW2 badge
Unidentified officer hat
Torso
Green M35 Gimnasterka with M43 Gimnasterka shoulder boards
Green M43 Gimnasterka
Unidentified belts
Unidentified holster
Unidentified spade
Blanket
Unidentified ammo pouches
White cloth
Ammo belt
Arms
Legs
Unidentified Soviet officer trousers "Sharovi"
Telogreika trousers
WW2 Soviet jack boots
Ad blocker interference detected!
Wikia is a free-to-use site that makes money from advertising. We have a modified experience for viewers using ad blockers

Wikia is not accessible if you've made further modifications. Remove the custom ad blocker rule(s) and the page will load as expected.