Analysis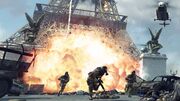 The
Russian Ground Forces
(also known as
Spetsnaz
in multiplayer) are the land forces of the military of the fictional
Ultranationalist
Russian
government in the video game
Call of Duty: Modern Warfare 3
, they are active in the year 2016.
The philosophy in their equipment design is very retro-futuristic as they are depicted with very old and obsolete gear such as Russian uniforms from the 1990s and bizzarely American combat boots from the 1960s mixed with more contemporary gear being used in 2016. This is probably intentional stylistic choice due to the whole 1990s-ization of the Call of Duty: Modern Warfare 3 setting as the game heavily draws inspiration from the movie Black Hawk Dawn and the Sierra Leone Civil War. Here are included also the Russian paratroopers present in the game.
The following is a list of the equipment used by the Russian Ground Forces in game (the gear varies between the different character models):
Headgear
Kaska 1M Helmet
Unidentified arctic camouflaged helmet cover
Generic black balaclava (1 hole)
Generic black ski mask
Generic black beanie hat
Unidentified goggles
Blue VDV beret
Black GP-5 gas mask with standard filter
PMK-2 gas mask
Torso
Gorka-3 jacket
Supply units of Russian interior troops griffin patch (seen in artwork)
Modified

Russian Internal Troops North-West district sphinx patch

Unidentified reed camo jacket
Unidentified VSR camo jacket
Unidentified arctic camouflaged jacket
Fictional vest (a mix between M37 Tarzan and 6sh112)
Unidentified pouches
Unidentified radio
Unidentified knife
M67 grenades
Unidentified smoke grenades
Meshok rucksack with modern straps and RPG-7 rockets (ref 1, ref 2, ref 3, ref 4, ref 5) or RPG shoulderbag
Unidentified bag (in Special Ops only)
Arms
Black Oakley gloves (first person)
Generic leather fingerless gloves
Fictional black gloves
Black sposn gloves (in Special Ops only)
Legs
Gorka-3 pants
Unidentified reed camo pants
Unidentified VSR camo pants
Unidentified arctic camouflaged pants
Gorod camo pants (in Special Ops only)
Unidentified knee pads
Unidentified holster
Ad blocker interference detected!
Wikia is a free-to-use site that makes money from advertising. We have a modified experience for viewers using ad blockers

Wikia is not accessible if you've made further modifications. Remove the custom ad blocker rule(s) and the page will load as expected.