Analysis
Watchgate is a private security provider that gives security services for oil companies. Their motives and ties with the ultranationalist group Raven's Rock explains their military-grade gear and weapons. They operate in several oil companies in Africa.
Headgear
Torso
Unknown body armor
Unknown load bearing vest
Unknown x-straps webgear
Unidentified pouches
Fictional woodland camouflaged combat shirt based on Crye Precision Woodland Combat Shirt
Unidentified t-shirt
Arms
Unidentified gloves
Generic leather fingerless gloves
Unidentified wristwatch
Legs
Unknown solid colored khaki pants
Unknown holster
Unknown brown boots
Unknown tactical boots
Gallery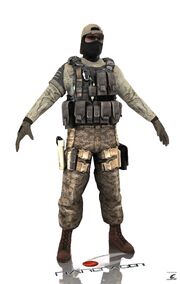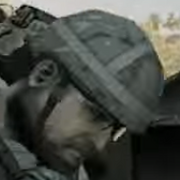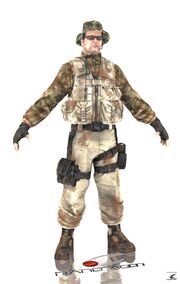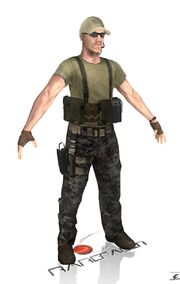 Ad blocker interference detected!
Wikia is a free-to-use site that makes money from advertising. We have a modified experience for viewers using ad blockers

Wikia is not accessible if you've made further modifications. Remove the custom ad blocker rule(s) and the page will load as expected.